Purpose: 3d Visualization to support Globalworth's marketing efforts;
Current project status: Finished.
Location: Romania, Bucharest.
Year: 2020

This is a walk-through, a case study of the process behind this office building visualization and interior design project. We'll explain what were the client's problems and goals, and then we'll detail our approach as well. And, if you're interested in some insights of the actual 3d rendering process, check out the end of this article!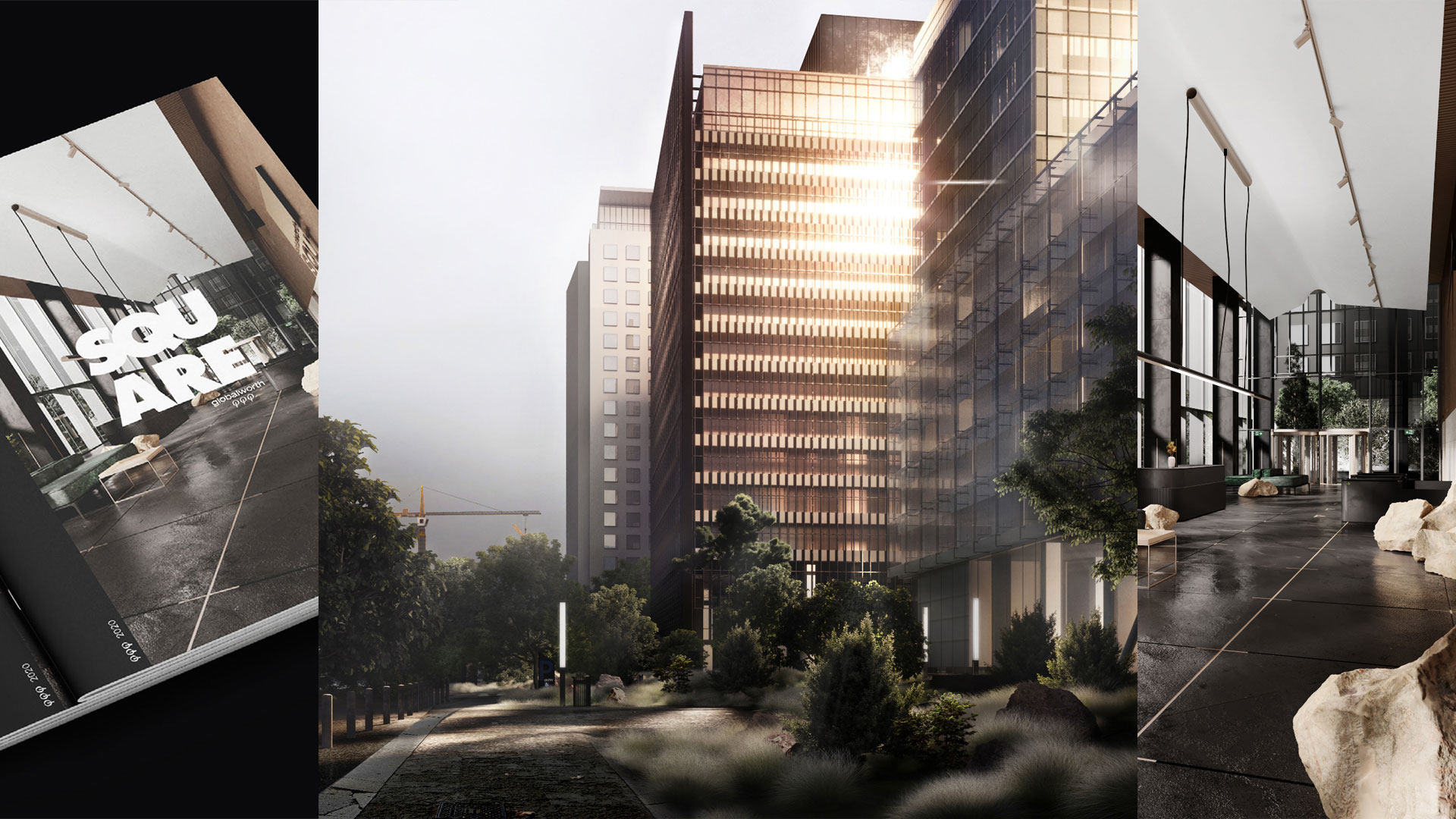 1. The brand challenge
In a fiercely competitive market and a large pool of offers, it's not enough to have a better product. You need to make it look better than your competition! And even though Globalworth is the biggest office building investor in Romania, the marketing strategy relies on the product's image.
After all, a space that claims to host innovation in business must be the reflection of this direction. Especially in this area, where no one invests in the past, but only into the future.
So, our mission here was to help Globalworth reflect its brand through interior design and high-end architectural visualizations.
2. What did Globalworth need?
In other words, our job was to align the lobby design, and the exterior office building visualization set with the new Globalworth SQUARE concept. As we saw the brochure they were preparing, we quickly understood the visual culture level of their ideal client, one that sees value behind fine architectural details.
Still, when we arrived at the scene the project has already seen a few phases. The creative direction at Globalworth wasn't fully satisfied with their existing lobby interior design, nor with the exterior visualizations, so we had to back up a concept that proved hard to translate into space. We brought the new – retro, raw, and stylish feeling that Globalworth envisions within this project.
3. Our approach to this office building visualization project.
The mission & strategy.
Over a 1-day brainstorming session, we surfaced the challenges that Globalworth SQUARE. The current design wasn't putting anything new to the table, so our main goal here was to bring something fresh to this market, to the businesses that will inhabit these spaces and their customers.
As a strategy, we didn't try to inhibit the facade with too much vegetation, but we did not ignore the aspect of the green area. On the other hand, the interior was designed to emphasize the contrast between raw and finished materials, creating a neo-baroque vintage atmosphere.
Understanding the BRAND.
Globalworth branded themselves as innovators on work-play balance in the office building market. They create a strongly bonded community within their art & tech district and generate growth by approaching problems differently.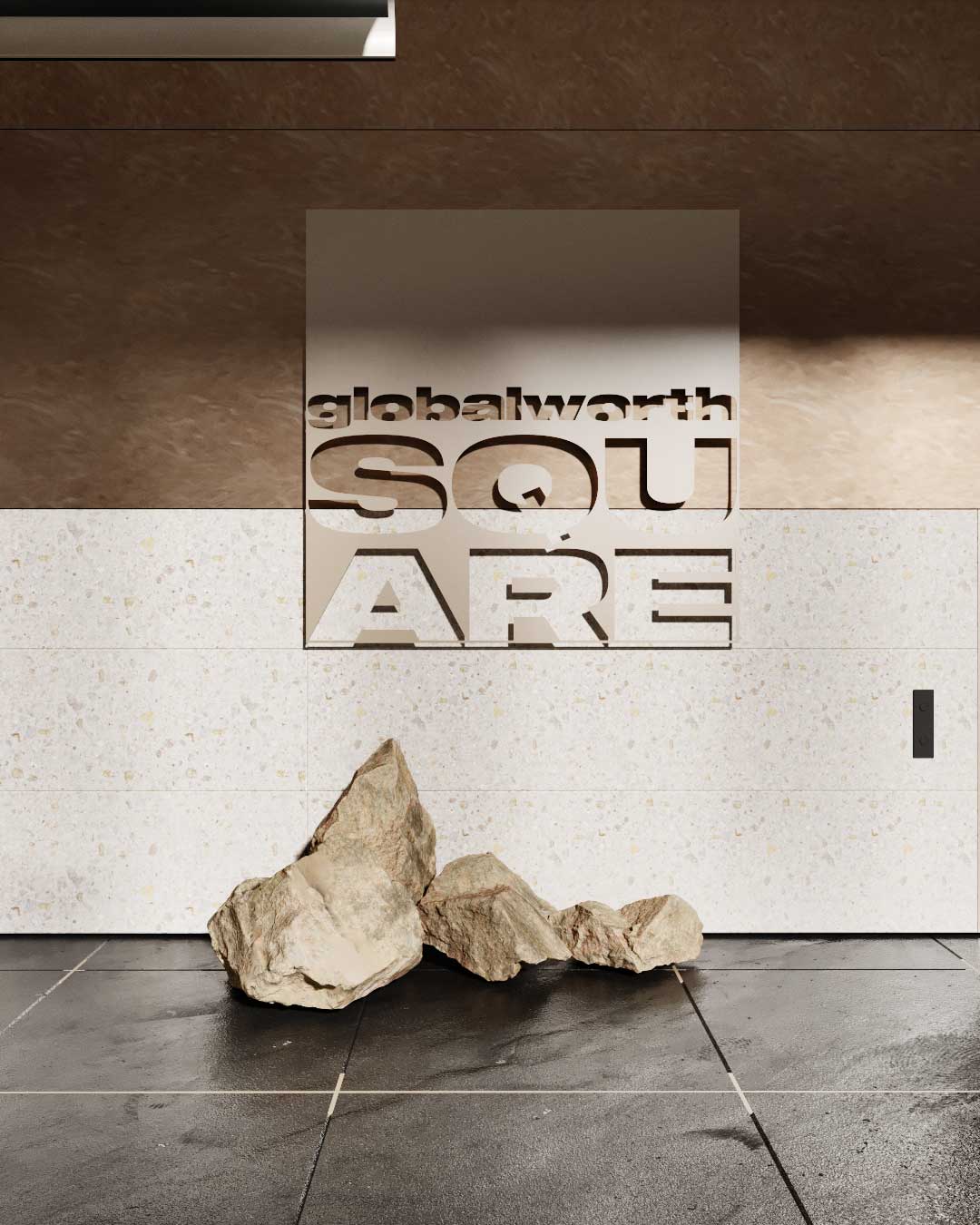 Understanding Globalworth's clients.
The company clients are well-established businesses that need spaces to foster innovation and support their process. They appreciate a diverse working space, premium amenities, and a good location. These businesses want to be a part of a new movement in the largest office hub found in Bucharest.
4. The creative process
We acknowledged what wasn't working with the previous lobby design understood the desired vision, and as a result, we started looking towards the proper materials for the design.
Our vision was centred around a neo – raw baroque lobby that breaks from the conventional business like look. Loads of contrasts, from soft to very rough textures, and an accentuated height depth that would emphasise the raw details found in nature.
The goal was to bring in bold elements and bold textures, an artificial nature within pragmatic limits. It's true that we enjoyed some creative freedom here, but this involved searching and testing limits within to act.
At that point, it was obvious to us that the lobby should allow users to be part of the shifting dynamic sought by Globalworth. A new vision and an edgy vibe. A new experience.
As for the exterior image, we experimented with light, a really important visual element. In fact, we used the facade to reflect a particular moment of the day. The golden hour.
By the way, if you're curious you can check out our Instagram and stay tuned to our newest projects!
5. The light setup for the interior space.
Usually, a single light source won't do the job, and this time was no different. Here we used one main light source and another five. See how we added support lights to help out the Sun? A couple more key lights to emphasize the rocks in the scene, and that was it!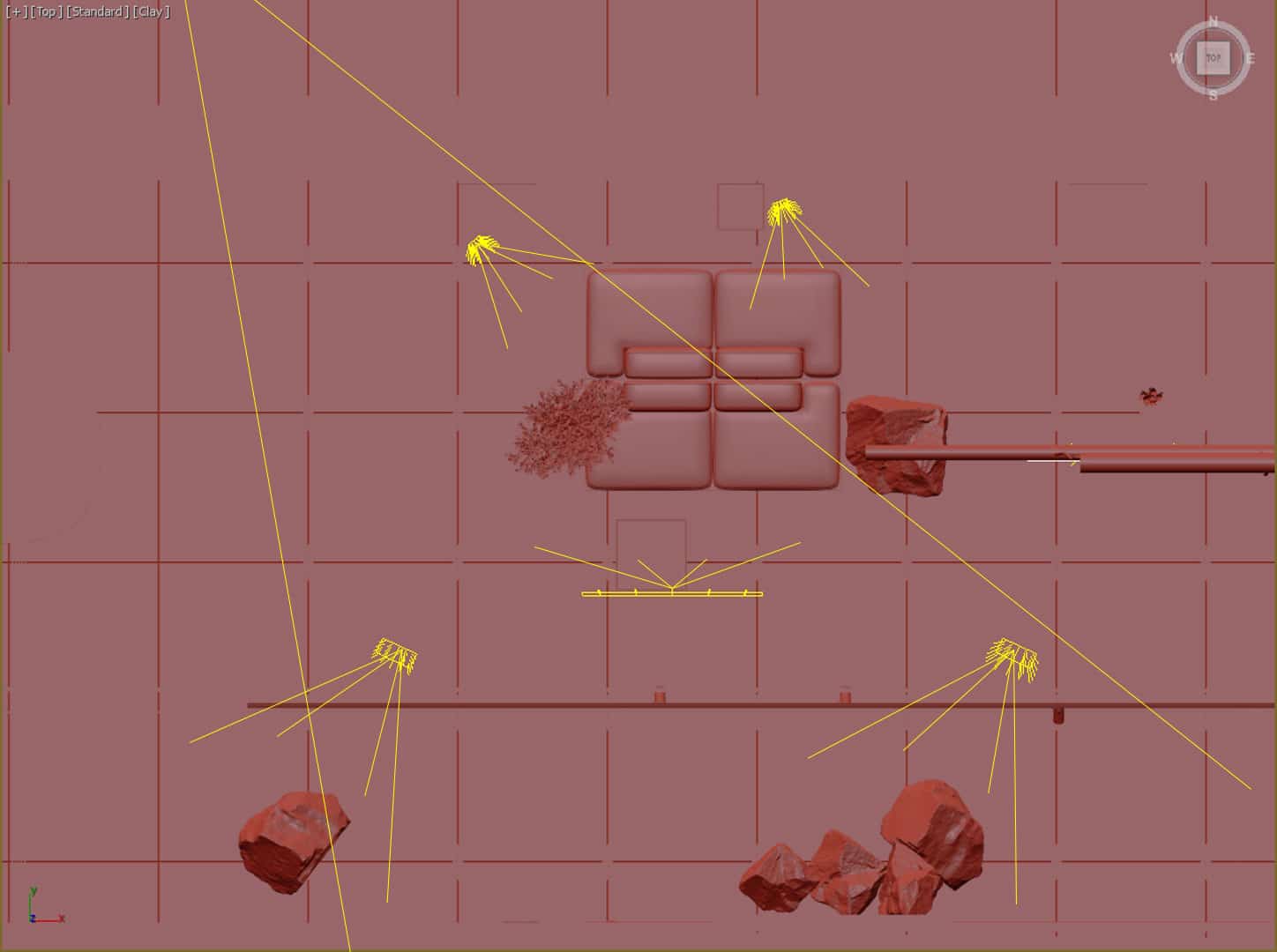 And here is the final result of the office building visualization project: